Make a splash with a Summer Loan
Your credit union is offering a Summer Loan designed to finance your summer fun! With rates as low as 8.99% APR*, you can use the money for whatever floats your boat and repay it over the next 12 months without worrying about coming up short on your monthly bills.
You can apply online easily through your Online Banking. Not sure if a Summer Loan is the right choice for you? Let us call you when you are free to discuss all of our affordable options by filling out the Contact Request Form below.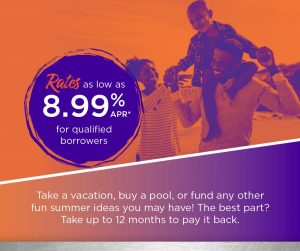 *APR = Annual Percentage Rate. Offer valid through 09/15/2021. Twelve (12) month personal loan only. Loan rates are determined by your credit qualifications.